Volkswagen is recalling 6,300 vehicles after their supplier informed them the rear coil springs they provided weren't ready for production.
Um, whoops? If the coil spring breaks it will cause an unsettling noise (bad), a sagging backend (worse), and can even puncture a tire leading to a sudden blowout (holy smokes terrible). Owners of the 2018-2019 Atlas, 2015 Golf SportWagen, and 2019 Jetta should be on the lookout for a recall notice in the mail.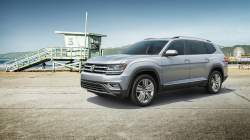 keep reading

article "VW Says Supplier Sent Coil Springs That Can Snap, Crackle, and Pop the Tires"