2012-2014 Beetle Recalled to Replace Takata Airbag Inflators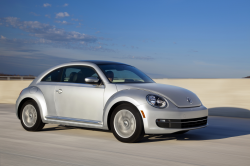 In case you missed it during your eggnog and sugar cookie hangover (no judgement), VW announced the 2012-2014 Beetle needs to be recalled to replace their dangerously defective Takata airbag inflators. The script is very much the same as previous Takata recalls. The propellant inside the inflators becomes extremely volatile due to heat and humidity exposure over time to the point that, when the airbag is deployed, the inflator actually explodes and sends shards of metal out into the cabin.
About the Recall ∞
The inflators have been linked to over 20 deaths worldwide and roughly 250 injuries.
VW started recalling Takata inflators back in 2016 which feels like 100 years ago at this point.
Speaking of glacial paces, the recall isn't scheduled to begin until February 12th 2021. 😳
The recall covers over 105,000 vehicles.