Atlas and Atlas Cross Sport Owners Get a 2-for-1 Series of Recalls to Prevent a Sudden Loss of Control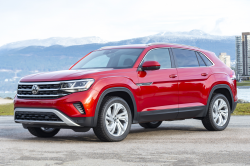 Volkswagen recently issued a 2-for-1 series of recalls for owners of the 2020-2021 Atlas Cross Sport and 2021 Atlas. Both campaigns are to fix issues that can cause a sudden and dangerous loss of control.
About the Recalls ∞
Roughly 770 of SUVs have stock tires that were overcured and are at high risk of blowing out. The recalled tires are the Contintental Cross Contact LX Sport Tires (225/50 R20 105T). The replacement campaign won't begin until January 12th, 2021 though, so be thankful if you already splurged and bought some winter tires.
Roughly 850 of the SUVs have steering knuckles that look like they've been in a fight. The knuckles can fracture and cause a sudden loss of steering control which I personally find very important. Looks like VW agrees because they're not waiting around on this recall as it already began on November 19th, 2020.
1,536 of the recalled vehicles are in the USA, and 93 in Canada.